What was the Demerger About?
ISX Financial EU PLC ("ISXFEU") was demerged from Southern Cross Payments Ltd ("SP1"), to form a new public company, based in the European Union Member state of the Republic of Cyprus.
What does ISXFEU do?
ISXFEU, through its Probanx® subsidiaries, develops financial and regulatory technology software for banks, credit unions, electronic money institutions, payment institutions and financial services companies. The software may be licenced, or provided as a service, for upfront and monthly fees, and integrated directly with customer systems, or via platform partners. The software includes solutions for customers onboarding, identity verification, core banking, interbank networking, card scheme processing, securities delivery versus payment, payment netting and electronic wallet solutions.
ISXFEU leverages its technology, together with its UK and European regulatory authorisations, to offer financial services to business and retail customers.
The business model of ISXFEU is to develop regulatory and financial technology software solutions, and to either:
(a) deploy these solutions to other regulated financial institutions under a licensing or software as a service model; and/or
(b) in its capacity as a regulated monetary financial institution, offer financial services including payment processing, transactional banking, account issue, card issue, foreign exchange, remittance, securities trading, clearing, settlement, and electronic money services; and/or
(c) develop or acquire technologies in markets that are sympathetic with or adjacent to the sectors associated with the above activities.
The Company relies upon its electronic money institution regulatory authorisations from each of the Central Bank of Cyprus and the United Kingdom's Financial Conduct Authority. Those authorisations permit it to hold central bank accounts for deposit of client funds, and also to retain membership of various payment schemes, including card schemes and interbank network payment schemes. The authorisations also permit the ISXFEU Group to issue electronic money in the European Economic Area and the United Kingdom.
Why Demerge?
The purpose of the Demerger was to:
provide a mechanism for ISXFEU to be listed on a stock exchange other than ASX, and thus to enhance ISXFEU's ability to raise funds on attractive terms to finance its strategic capital requirements for achieving its goals and objectives





Subject to being admitted to another exchange, to enable shareholders to trade their shares freely, ; and


allow ISXFEU to operate under European regulatory requirements from which region it derives more than 98% of its revenues.
What was the Demerger Mechanism?
Following a successful vote by shareholders at a general meeting, each SP1 shareholder automatically received 1 share in ISXFEU for every 10 shares held in SP1 (subject to rounding down for less than ½ share). The shares were recorded with Computershare as a new holding.
Which other key SP1 group entities were demerged?
ISXFEU, before the proposed Demerger, was a wholly owned subsidiary of SP1. ISXFEU is incorporated in the Republic of Cyprus with Company Number HE348009, and holds Central Bank of Cyprus authorisation #115.1.3.17 as a European Economic Area Electronic Money Institution and UK FCA 900871 as a UK Electronic Money Institution. ISXFEU directly holds monetary financial services licences to operate as an authorised electronic money and payment institution in the European Economic Area (EEA) and the United Kingdom.
ISXFEU owns 19.99% of its associate, the NSX Limited (NSXL), which is the 100% owner of the ASIC licenced Tier 1 Australian market operator and securities exchange, the National Stock Exchange of Australia Ltd (NSXA).
ISXFEU additionally owns 59% of ClearPay Pty Ltd, a start-up venture co-owned 41% by the NSXL, that seeks to enter the clearing and settlement sector, currently monopolised by the Australian Securities Exchange wholly owned subsidiary, ASXClear.
ISXFEU also holds 100% of Probanx Holdings Ltd, which in turn owns the UAB Probanx Solutions and Probanx Solutions Ltd. The Probanx Solutions subsidiaries develop core banking software. Probanx Solutions Ltd has 100% ownership of ISX IP Ltd, the holder of the group's patent portfolio.
ISXFEU also holds 100% of ISX Holdings Ltd, which in turn holds 100% of ISX Financial UK Ltd, a UK Financial Conduct Authority authorised electronic money institution.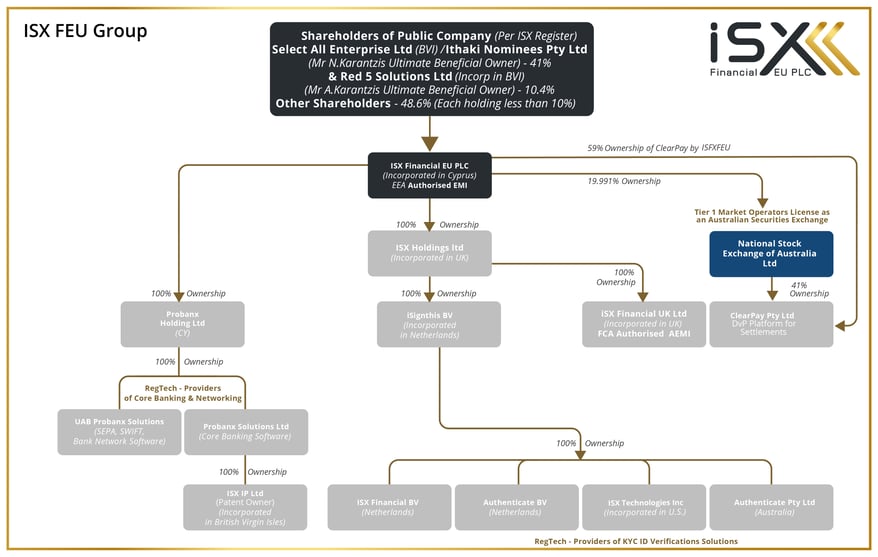 What happens to my SP1 Shares?
You will still retain all your SP1 shares.
What happens to SP1?
SP1 will maintain business interests in Australia, including via ISX Financial Pty Ltd (to be renamed at a later date), which holds a Principal License agreement with Mastercard International. It will seek to leverage this agreement into a new business opportunity that is focussed on Australia and possibly New Zealand. SP1 will maintain sufficient cash reserves to develop the business opportunity further, and in addition continue to fund its Federal Court case against the ASX, and defend the ASIC action.
ISX will also have the benefit of an interest bearing convertible note issued by ISXFEU, and legal cost sharing agreements with ISXFEU.
Will SP1 re-list on the ASX?
The Company will continue to liaise with the ASX in good faith regarding resuming its listing.
Will ISXFEU seek to list on the ASX?
No. There are no such plans.
Key Documents - Click on title to download